Short Description
Executive Master in Digital Marketing and Communication
A 20 days' program in 10 modules, from April 2023 until January 2024.
It covers the most recent advances in the sector as taught by an exceptional mix of academics from the Solvay Brussels School, who bring their scientific accuracy and are the best practitioners in the field, sharing their real-world corporate experience.
The novelty of the 2023 edition will be, for those who are more B-to-Be oriented, the setting up of an additional and optional two-day module exclusively dedicated to the business to business sector - without repeating the subjects seen during the 10 other modules.
Practical Details
Language: English
Duration: April 2023 until January 2024.
Schedule: 20 days spread over Tuesdays/Thursdays/Saturdays, composed of 10 modules, one module per month.
Place: Solvay Brussels School, Av. F.D. Roosevelt, 42, 1050 Brussels
Academic Director & Main Speaker
Philippe BILTIAU – Academic Director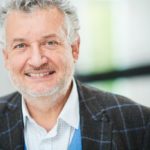 Commercial engineer, ULB; Professor and former President of the Solvay Business School, ULB. Creator and academic director of several management training programmes at Solvay.
Hugues Rey – Speaker and CEO, Havas Media
Commercial Engineer Solvay Brussels School of Economics, ULB; CEO Havas Media Group Belux; Previously Managing Director of FastBridge (IPG) and Digital Director Initiative Europe Middle-East Africa.Member of the Board of CIM (Centre d'Information sur les Media) and UMA (United Media Agencies); President of CIM Pluri-media Study Committee; Past President of the CIM TV and Internet Commission; Past President and Founder of Interactive Advertising Bureau Marketing and Communication Teacher at Solvay Brussels School of Economics; Life-Time Achievement Awarded IAB Mixx Award 2010 25 years of media agencies development through digital & data infusion