Yves Baudechon President & Co-Founder, Social.Lab Worldwide
The Social Lab adventure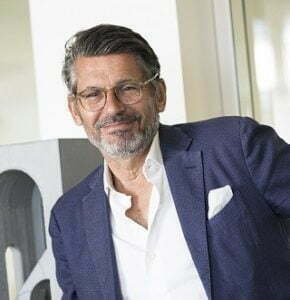 From a few Belgians passionate about social networks to a network of 500 experts in 11 countries.
What are …
the keys to the success of exporting a model on an international level?
the opportunities for Belgians abroad and the challenges for our start-ups to thrive internationally?
the recipes that drove Ogilvy/Social Lab to win so many awards in 2019?
Yves is a serial entrepreneur with a 30-year track record in creating and developing start-ups in the communication sector. When Yves Baudechon created Social.Lab in September 2010, with co-founder Gilles Bindels, they had the ambition to build a different type of social media agency, combining engaging content ideas with intelligent social targeting to drive results, while bridging the traditional media / creative agency divide.Under Yves leadership, Social.Lab developed a strong "Social CRM" offering, based on an integrated approach that focuses on acquiring and retaining customers, growing sales and advocacy. In this customer-centric model, content is customized assuring greater relevance and engagement. Social.Lab was acquired by WPP/Ogilvy in 2013 and has offices in New York, London, Paris, Amsterdam, with global headquarters located in Brussels, and soon to be expanding into Asia and Middle East.
Yves's career began with the creation of Marketing Power in the nineties, a direct marketing agency that he sold to DDB Belgium. Yves became the CEO of DDB Belgium, in 2000 until 2007. Yves co- created in 2000 JustForYou, the largest e-mail marketing program in Belgium sold to the leading Belgian Telco two years later. Yves also co-founded Radionomy in 2008, a worldwide platform that provides people with the tools and infrastructure to create, broadcast, promote and monetize their own online radio stations, sold to Vivendi End 2015.
Bookings
Bookings are closed for this event.