Update
here is the presentation of our speaker:
More details on IntoTheMinds blog.
Meet the Augmented Media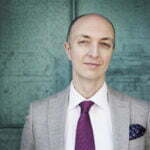 In his presentation Pierre-Nicolas Schwab will deal with augmented media and will discuss the effect of artificial intelligence, and in particular algorithms, on media consumption.
Recommendation algorithms are nowadays everywhere and greatly modify the way consumers behave. Netflix claims that 75% to 80% of all content consumed on their platforms is recommended by algorithms. which reinforce the fear of filter bubbles.
The augmented media trend is made possible by data-driven advances. We will debate of the underlying technological trends, the future recommendation algorithms and of of media consumption.
In preparation for this talk we recommend that you browse Pierre-Nicolas' publications on his blog.
---
Dr. Pierre-Nicolas Schwab – IntoTheMinds / RTBF
Dr. Pierre-Nicolas Schwab is in charge of Big Data at RTBF, the French-speaking public broadcaster in Belgium. His responsibilities include data collection, protection, analysis and the creation of algorithms. He's been elected Chairman of the Big Data Initiative (BDI) of the European Broadcasting Union in July 2017. As such he supervises with other colleagues the efforts of EBU members in the field of Big Data, algorithmic recommendation and the transfer of knowledge between members.
As founder of market research agency IntoTheMinds Pierre-Nicolas has carried out some 80 assignments in various industries (retail, telecom, e- and m-commerce, media, IT, Banking…), combining his passion for data and qualitative methods to better understand customers. He is also the co-founder of Rusée, a company manufacturing premium handbags from upcycled leather, and is a partner at Toulouse-based N5 winebar which won the award of world's best winebar in 2017 and 2018.
Pierre-Nicolas holds a MSc in material science, a MBA in strategy and a PhD in quantitative marketing. He's affiliated as senior researcher with the Solvay Brussels School of Economics.
Bookings
Bookings are closed for this event.