Due to the actual sanitary situation linked to Covid-19, our next lunch is cancelled. Sorry for the inconvenience.
Yvan Verougstraete, Founder and CEO of the Medicare-Market group
Convictions, tools and career path of an 'atypical' manager of the year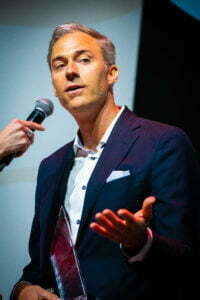 Yvan Verougstraete will share with you some of his convictions about the current state of our society and its political and economic consequences.
He also will describe some of the keys that helped him turn the obstacles he encountered into opportunities. And he will illustrate this with some concrete examples from his personal journey.
---
Since 2014: Founder and CEO of the Medicare-Market group
First 'parapharmacy' sales outlet opened in Gosselies in December 2014. The chain, which also has an online presence, currently has 42 parapharmacies and 18 pharmacies in BeLux, as well as 4 parapharmacies in Italy and 1 in France.
Prior to that:
2012 Viangro Group: Turnaround Officer – Director
Assignment from the Supervisory Board aimed at assisting the Managing Director to put a far-reaching recovery plan in place for the Viangro Group.
2010-2011 TastyFood: Managing Director
Working with the TastyFood team, we consolidated a portfolio of products and commercial relationships.
TastyFood is recognised as one of the leaders in the ready-meals sector. It occupies a prominent position in terms of quality and innovation, thanks to its cutting-edge R&D policy.
2005-2009 Divine Cuisine: Founder and Managing Director
Establishment of a company manufacturing quality ready-meals for mass retailing. ?To continue the adventure and enable the business to grow to a larger size quickly, we decided to merge Divine Cuisine with the catering arm of the Viangro Group… where it became: TastyFood.
2002-2004 Delitraiteur: Operations Director
With responsibility for operations management, we carried out a total restructuring exercise for the company, with the assistance of the managing director and his staff.
1999-2002 McKinsey and Co
Starting out as a 'Junior', then an 'Associate', before becoming a 'Project Manager', Yvan was involved in numerous strategic and operational projects. Specialising in retail and FMCG.
EDUCATION
1998-1999 MBA, Vlerick Business School (Magna cum laude)
'Baron Vlerick' Prize for the best end-of-year work
1993-1998 Law degree, Université Catholique de Louvain (Magna cum laude)
Exchange programme (Socrates): University of Utrecht
PARTICULAR ACHIEVEMENT
Travelled round the world as a family in 2013.
Bookings
Bookings are closed for this event.