Only a few seats lefts !! – 

Coffee time extension from 2 pm to 2.30 pm
"Strategic vision of a major European audiovisual group"
Like many European media groups, TF1 has been prompted to rethink its traditional business model to deal with the fragmentation of audiences and the rise in advertising on the web.
To do so, Gilles Pélisson has shown that he is in favour of a multi-channel, multimedia and multi-business strategy in terms of content, monetisation and digital development, not hesitating to send shockwaves through the French ecosystem – and more recently in Belgium – by announcing the introduction of region-specific advertising in Belgium for its lead station, TF1.
18 months on from his arrival at the head of the Group, Gilles Pélisson will present an initial assessment of this transformation for the BMMA, covering the strategic issues at stake and his aspirations for the future. It promises to be a unique opportunity to get to know this new player on the Belgian advertising scene.
Book your seat today !
---
Gilles PÉLISSON
Chief Executive Officer, TF1 Group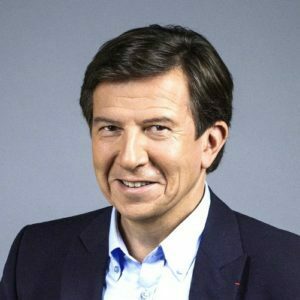 Married with two children, Gilles Pélisson is a graduate of ESSEC Business School and the Harvard Business School.
After six years spent in the United States as Marketing Director of the Seafood Broiler restaurants, then as Senior Vice President of Accor for the Asia-Pacific zone, he was appointed General Manager of Courtepaille restaurants in 1988. He then became Joint Chairman of the Novotel hotel chain in 1993.
In 1995, he was appointed General Manager of Euro Disney, becoming CEO in 1997.
In 2000, Gilles Pélisson took charge of the Suez-Telefonica ST3G consortium, one of the candidates for a 3G licence, becoming Chairman of Noos, the leading cable television provider in France.
In September 2001, Pélisson joined Bouygues Telecom as Chief Operating Officer. He was appointed CEO of Bouygues Telecom in February 2004.
In January 2006, he joined the Accor group as General Manager. In February 2009, he was appointed CEO of Accor, a position he occupied until January 2011.
2012 – 2016:
Member of the Global Advisory Board de Jefferies Group Inc. (NY).
Independent Director of TF1 & Sun International Hotels (Mauritius).
Independent Director of Groupe Lucien Barrière Hôtels et Casinos.
Director/Investor of Speci (Developer of the Cristal Park Project – Cristallerie du Val St Lambert – Seraing).
Chairman of the ESSEC Foundation (ESSEC Business School).
Since 2012: Independent Director of Accenture Plc – NY
He has been Chief Executive Office of TF1 Group since February 2016.
Author of the report: "Business Tourism in Greater Paris: Seeking New Aspirations", for the Ministers of Finance and Tourism, Christine Lagarde and Frédéric Lefebvre (June 2011).
Gilles Pélisson is a Knight of the Legion of Honour and the National Order of Merit.
---
An invoice will be sent to your company for the booked amount for the event. Provide us with Purchase Order number if needed. All prices are VAT excluded.
Bookings
Bookings are closed for this event.