LN24, the new promise beyond the new(s) brand – Boris Portnoy, Joan Condijts, Martin Buxant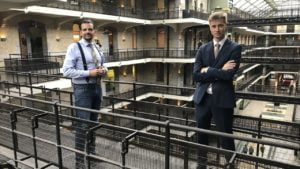 Our guests
Boris Portnoy, Founder and C.E.O.
Joan Condijts, Founder and News Director
Martin Buxant, Founder and Editor in Chief
In exclusivity for the BMMA, the founders of LN24 zoom in on the Breaking News that has surprised the French-speaking audiovisual landscape in recent weeks: the launch of LN24, Belgium's first 24-hour news media, scheduled for 2019.
Behind the project figure well-known names in audiovisual production and journalism, but also prestigious private investors –  Belfius via Belins, Besix, Title Media (Giles Daoust), Ice Patrimonial (Jean-Pierre Lutgen).. And above all, there is a promise of a brand and disruptive media, with a strong capital commitment and a high emotional potential.
This is a year-end highlight for the BMMA, which will also celebrate the handover between its president for the past 5 years, Yves Gérard, and his successor from January 2019 onwards, Hugues Rey!
Don't miss this opportunity to festively close a BMMA year rich in sharing experiences and knowledge!
Bookings
Bookings are closed for this event.