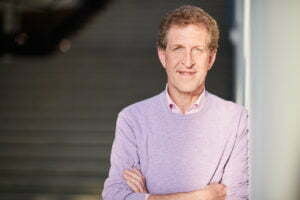 And what if we were pessimistic? 
How do you run a business by practising pessimism on a daily basis? Better than that: how do you inoculate your teams and all the people who surround us with this virus? Cherry on the cake: how can a medium transmit this germ to the hundreds of thousands of people it reaches every day?
It is an odd, tender and probing test that Marc Vossen invites us to take this coming 12th October.
LIMITED TO 40 PARTICIPANTS
---
Marc Vossen – CEO, NRJ Group (NRJ-Nostalgie-Chérie-NRJ Hits TV)
Winner of the Media Personality of the Year at the Amma Awards 2017, Marc Vossen is a leading figure in Belgian radio.
He has been at the forefront of the medium's development ever since he began working, back in 1978 in Louvain-La-Neuve, at a time when independent radio stations were booming. Marc Vossen began his career at Radio Contact in 1980, joining the RTBF in 1990. He has since taken the helm as general manager of 2 Belgian radio stations: Nostalgie (since 2000) and NRJ (since 2011).
As a visionary, enthusiastic, ambitious and create manager, Marc brought a breath of fresh air to Nostalgie, making it the only radio brand with a presence in both the North and South of the country in 2008. He then relaunched NRJ in 2011 and gave Chérie FM a new digital lease of life in 2014. In 2016, he morphed his stable of radio stations into an audiovisual group with the launch of NRJ Hits TV, the 100% Belgian music station.
Investing time and effort above and beyond just his day job and aware of reaching 1.2 million people every day in the North and South of the country, Marc has set himself the task of providing media outlets that are more positive, more constructive and solution-providing.
---
An invoice will be sent to your company for the booked amount for the event. Provide us with Purchase Order number if needed. All prices are VAT excluded.
Bookings
Bookings are closed for this event.